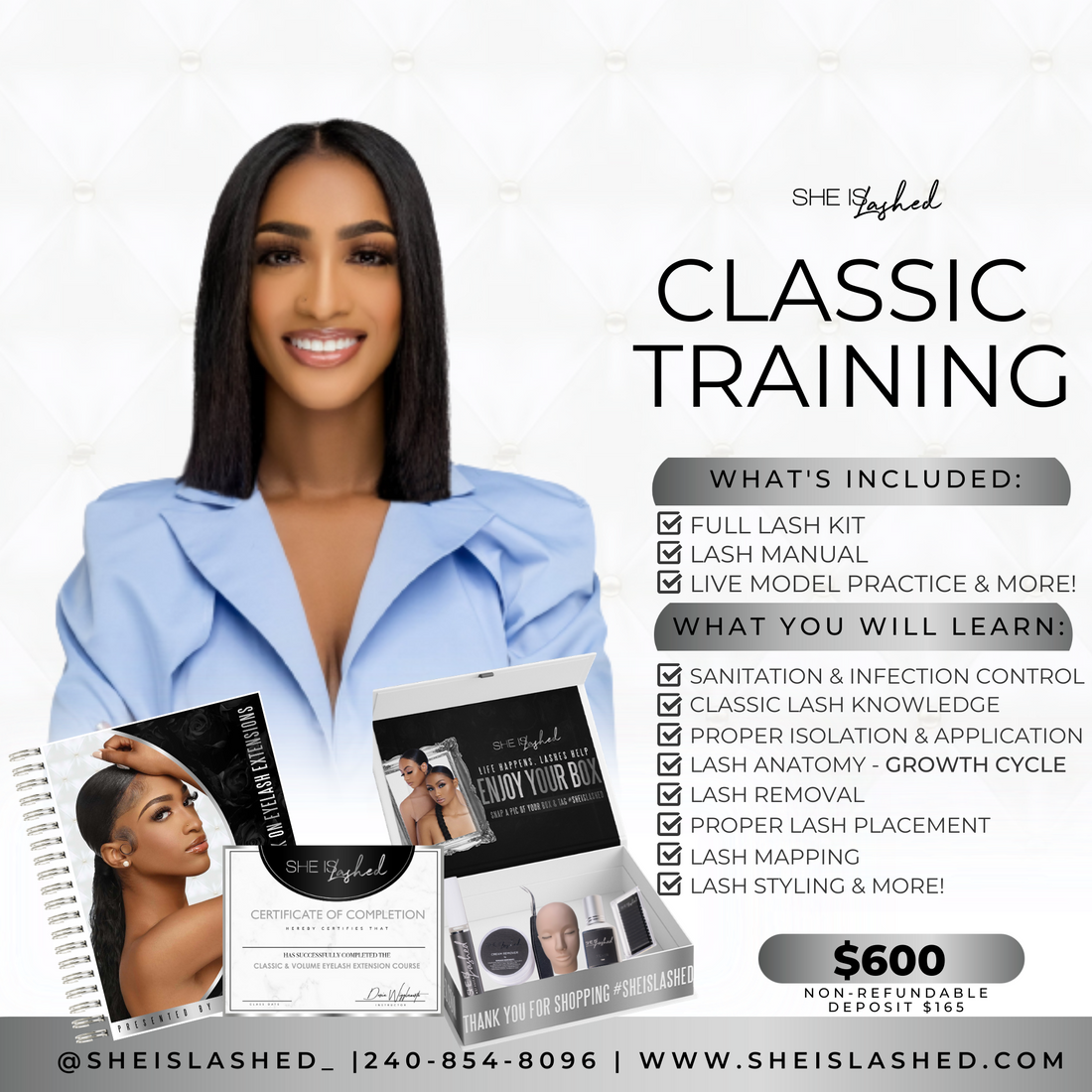 SheIsLashed Classic Training
PLEASE READ ENTIRELY:
The SIL Classic Training includes a SheIsLashed full lash kit with all our quality products! A take-home lash manual, mannequin head and live model practice. This is a 2-day class. A model is needed for day 2 during live model practice. If you're in need of a model it is an additional $50. This training also includes Classic application, proper lash removal, isolation, fill-ins, bottom lash application, marketing and branding, sanitation and safety, certificate of completion, lifelong mentorship and more!
 Please check your state regulations for lash technicians. This is NOT a class for you to get your license.
This is NOT a group training. This is a 1-on-1 Training directly with Daria from SheIsLashed.
Once deposit is paid. You will receive an email to schedule your date(s) for training. You may also choose to pay in full and use Afterpay for payment plans. 


Please read Afterpay terms and conditions before agreeing. 
Price: $600
Deposit: $165
Day 1:  LASH KNOWLEDGE
Day 2: LIVE MODEL PRACTICE
TIMES CAN BE ALTERED BASED ON THE DAYS SCHEDULED.
Deposits are non-refundable but do go towards your remaining balance. Deposits can be transferable up to 48 hours before the allotted class time. If you miss your second training date after rescheduling, you will have to pay a new deposit fee. No Exceptions.
This is for the deposit only. All remaining balances are due the day of the class CASH ONLY and a receipt will be given for your records.
If you have any questions or concerns before booking please contact Daria at 240-854-8096 or email sheislashedcustomerservice@gmail.com
Once booked, you will receive a text and/or email about your class!
PLEASE BE SURE TO ENTER YOUR FULL NAME, EMAIL AND ADDRESS WHEN PURCHASING!
Located in Prince Georges County, Maryland.
Please read our terms, conditions and policies at the end of our home page.