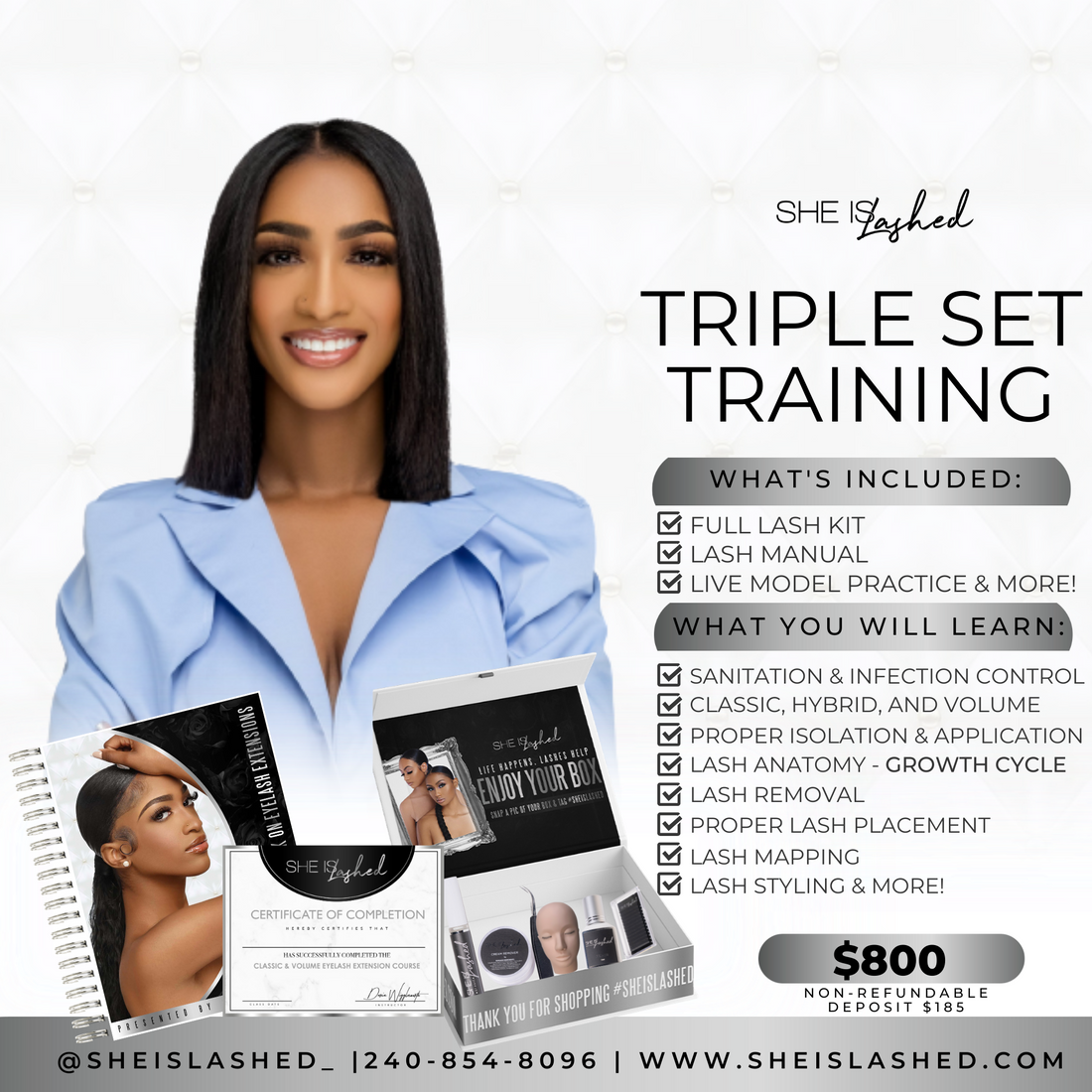 Triple Set Lash Training - In-Person
PLEASE READ ENTIRELY:
The Triple Set Training includes a SheIsLashed full lash kit with all our quality products! A take-home lash manual, mannequin head and live model practice. This is a 2-day class. A model is needed for day 2 during live model practice. If you're in need of a model it is an additional $50. This training also includes Classic, Hybrid and Volume Application, proper lash removal, isolation, fill-ins, bottom lash application, marketing and branding, sanitation and safety and certificate of completion. Lifetime mentorship has been discontinued. All students will receive a lifetime student discount to shop our lash products.
Please check your state regulations for lash technicians. This is NOT a class for you to get your license.
This is NOT a group training. This is a 1-on-1 Training directly with Daria from SheIsLashed.
Once deposit is paid. You will receive an email to schedule your date(s) for training. You may also choose to pay in full and use Afterpay for payment plans. 


Please read Afterpay terms and conditions before agreeing. 
Price: $800
Deposit: $185 
Day 1: 8am-1pm
Day 2: 9am-1pm
TIMES CAN BE ALTERED BASED ON THE DAYS SCHEDULED.
This is for the deposit only. All remaining balances are due the day of the class in cash and a receipt will be given for your records.
Lessons Discussed: 
Client Consultation
Application Tools
Tweezers & Technique
Posture
Adhesive Knowledge
Lash Anatomy - Growth Cycle
Classic vs. Hybrid vs. Volume
Types of Lash Curls 
Ellipse vs. Classic Lashes
Lash Diameter & Lash Lengths
Taping Methods
Isolation Methods
Classic Application
Volume Application
Hybrid Application
Creating Volume Fans
Placement/Lash Wrapping 
Lash Mapping
Lash Styles
Lash Fill-Ins
BONUS: Bottom Lash Application
Aftercare Tips
Maximizing Retention
Pre-mades/Pro-mades/Easy Fans/Clusters
Sanitation & Safety
Barbacide Cert. Steps
Allergies & Reactions
Business Etiquette & Professionalism
Additional Items To Purchase
Lash Environment 
Price Points  
Ultimate Lash Kit:
Mannequin Practice Head (1)
Lash Tweezers (4) - Curved, 90 Degree, 90 Degree Bootie, 45 Degree
SHE Adhesive (1)
Lash Primer (1)
Super Bonder (1)
Lash Sealant (1)
Lash Shampoo (1)
Lash Trays (4) - 2 Classic & 2 Volume
Cream Remover (1)
Gel Pads
Squeeze Bottle (1)
Lash Tape (1)
Adhesive Wipes (175 ct.)
Lipstick Applicators 
Mascara Wands 
Fan
Glue Rings
Micro Swabs 
Tweezer Cleaner
Deposits are non-refundable but do go towards your remaining balance. Deposits and classes are nonrefundable. 
Deposits can be transferable up to 48 hours before the allotted class time. If you miss or cancel your second training date after rescheduling, you will have to pay a new deposit fee. No Exceptions.
All remaining balances are due the day of the class CASH ONLY and a receipt will be given for your records. If you choose to pay in full, a receipt will still be given upon arrival. 

If you have any questions or concerns before booking please contact Daria at 240-854-8096 or email sheislashedcustomerservice@gmail.com
Once booked, you will receive a text and/or email about your class to set up a date & time.
PLEASE BE SURE TO ENTER YOUR FULL NAME, EMAIL AND ADDRESS WHEN PURCHASING!
Located in Prince Georges County, Maryland.
Please read our terms, conditions and policies at the end of our home page.